I know what you're thinking, "Christmas??", but it's only October- and the beginning of October at that!
But usually I do start thinking about Christmas at this time of the year because I love to have all the Christmas gifts taken care of by December 1st so that we can actually enjoy the month of December and not feel so stressed.
For the past couple years I've been doing my best to have a more simple Christmas. What I mean is that I didn't want the kids focused just on gifts, or how many presents they're going to be getting. I want them to enjoy the month of December and all that goes into it, but I want them to also know why we celebrate Christmas, and the true meaning- Jesus Christ our Saviour.
Last year I had heard about the idea of just 3 gifts for each child, along the lines of the 3 gifts baby Jesus received from the three kings. So all throughout the month of December I took the opportunity to talk to them about why we celebrate Christmas in the first place, then I would explain to them that they would each receive 3 gifts just like baby Jesus. So on Christmas day they were not surprised that there were just 3 gifts under the Christmas tree for each of them.
This year I thought of doing things even a bit differently. I'm not opposed to buying gifts, but I sure dislike buying a bunch of store bought toys just to see them, a week or two later, forgotten about and discarded. So this year we'll be buying each of the kids one store bought gift and the rest of the gifts we'll be making or putting together ourselves. I'm actually really excited about this idea, and my husband and I have already discussed the things we'll be making.
We have four children, two daughters (ages 9 and 3) and two sons (ages 7 and 5), and we've come up with gift ideas that we think each will really like. We also have extended family that we'll be putting gift baskets together for, and I've come up with a lot of homemade items I can make for them.
I'm really looking forward to this Christmas season, to continue teaching the kids the importance of keeping Christ at the center of Christmas, and doing the things that make this season memorable: cookie baking, house decorating, Christmas movie watching. I'm looking forward to being creative with the gifts this year and to saving money by not spending so much.
My next post I'll be sharing with you the children's gift ideas that I have in mind. And if you have any ideas yourselves be prepared to share them if you'd like in the comments section, with a link to your blog or post so that others can read about them too.
And so that you don't miss the next part to this Homemade Christmas Series why don't subscribe to my blog via email.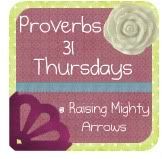 >